VA Home Care Program — Aid and Attendance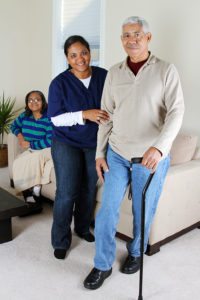 An elderly veteran who may feel uncomfortable getting around the house on his own also may be less inclined to ask for support, especially from family members or friends. These men, and women, may have a great deal of pride in their ability to take care of themselves and others for most of their life. As they get older, though, it can be much more difficult for them to accept their own limitations.
When an elderly veteran recognizes the value of home care support, whether they have family in the area or not, they may not see it as being practical. In most situations, far too many people assume that home care is simply not affordable option.
For veterans, there are various pensions and other programs that provide support that can also be used to help pay for a home care aide. One of those is known as the Aid and Attendance Benefit.
This pension program is made available through Veterans Affairs and it was developed after World War I as a way to help soldiers returning home get the care they needed. Through the years it expanded to provide financial support for veterans of all ages who might require some type of home care.
What home care can offer
A professional and experienced home care aide can assist an elderly veteran with just about any basic living task throughout the day. This can include getting dressed, getting out of bed in the morning, making their bed, bathing, toileting, preparing breakfast, lunch, or dinner, driving them to the store or to a doctor's appointment, and much more.
A home care aide can be hired for just a couple of hours a day or full-time, around-the-clock care, depending on the needs of the senior.
A VA Pension with Aid and Attendance
If home care is an absolute necessity for the veteran and he served at least one day of active duty service in a time of official combat, as defined by Congress, he may be able to qualify for the Veteran Affairs Aid and Attendance Benefit. This is additional financial aid for veterans and their survivors who are eligible for a VA pension and require the aid and attendance of another person.
There are specific thresholds with regard to income and assets that would preclude some veterans from qualifying for it, but for any elderly veteran who can't afford home care support otherwise, this may be a great option to consider. To qualify, the veteran does not have to have a disability related to military service.
By taking advantage of the pension programs that were specifically designed to help veterans in need, it can allow that elderly individual the opportunity to remain safe, stay as active as possible, and maintain a higher quality of life at home.
For more information and to learn about VA Home Care Programs and the VetAssist Program, contact Veteran's Home Care at (888) 314-6075.