Veterans Stories
We are grateful to our VetAssist clients who are sharing
their personal stories including veterans' stories from
female WWII veterans, who at that time, didn't serve alongside
men. Instead, they served in the Women's Army Corps
(WACs) and the Naval Reserve's Women Accepted for
Volunteer Emergency Service (WAVES).
Our veterans' stories describe what it was like to
serve your country, return to civilian life and
start new careers and families.
Our stories about veterans include inspiration, poignancy and
humor. For example, a WWII veteran inspires us as an active
volunteer in his 90s. Some suffered the loss of a spouse or
child. A WWII medical technician describes her role as a
"bedpan commando."
A common thread among every veteran's story is a happy
ending. Each of these veterans is now entitled to a little-known
VA benefit called "Aid and Attendance." This is a monetary
benefit which covers the cost of a personal care aide and more.
Veterans Home Care's VetAssist Program helps these veterans
live as independently as possible with dignity in their own home using the benefits they earned from military service.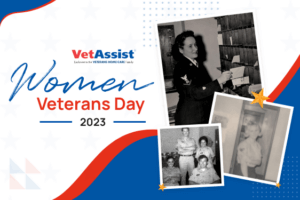 Celebrate Women Veterans Day on June 12, 2023, marking 75 years of honoring women's contributions in the armed forces.
Read More »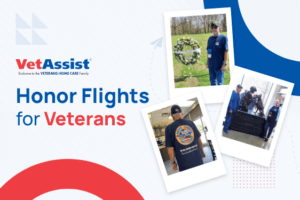 Steve Rich arrived at his usual bagel shop in Coral Springs, FL, and ordered breakfast, unaware that he was about to have a life-altering conversation—all because of his Navy hat…
Read More »