Long Term Care for Veterans and Surviving Spouses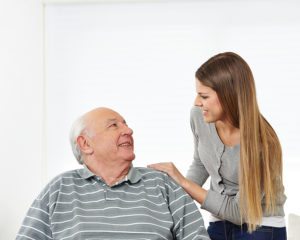 When elderly veterans or their spouses struggle with some basic things throughout the day, they may not know where to turn. Some have family in the area and a quick call would mean a son, daughter or other family member will be on their way before long. That's always comforting, but what happens when that same elderly person requires a lot of care for the long term?
Those family members may have their availability pushed to the limit. That's why it's often a good idea to check into a home care agency instead of just family or friends.
That's why it's a good idea to look into the Aid and Attendance pension.
This pension is made available through the Department of Veterans Affairs, (VA) and can be used to pay for home care support. Here are three ways the Aid and Attendance pension actually helps those veterans who need home care services.
1. It provides money for home care services.
One of the prime excuses people make for not even considering hiring an experienced home care aide is cost. They either don't have the financial resources to pay for it or assume it's just too expensive so they never look into it.
The VA has a pension with an additional Aid and Attendance benefit that provides the money to qualifying veterans or their surviving spouse to be used for home care.
2. It allows elderly, disabled veterans or their surviving spouses to age in place.
Most people, when asked, would prefer to remain home or "age in place" where they're most comfortable. By having this resource in one's corner, a veteran isn't limited to moving in with an adult child, other adult, or even a nursing home.
A qualifying veteran or surviving spouse would be able to remain where he or she lives and has possibly  lived for many years.
3. It offers more choices.
Some people simply rely on family because they don't believe there's any other option. With the Aid and Attendance pension, families of wartime veterans suddenly have more options available to them for long term care. The VA benefit can be used for home care, medical alert devices, transportation, adult day care, incontinence supplies and other services.
These are just three simple reasons the Aid and Attendance benefit is a great asset for families of veterans who need long term care and support.
For more information and to learn about veterans aid and attendance, contact Veteran's Home Care at (888) 314-6075.