What are ADLs and IADLs? The Department of Veterans Affairs (VA) uses Activities of Daily Living (ADLs) and Instrumental Activities of Daily Living (IADLs) to assess a person's ability and functional status.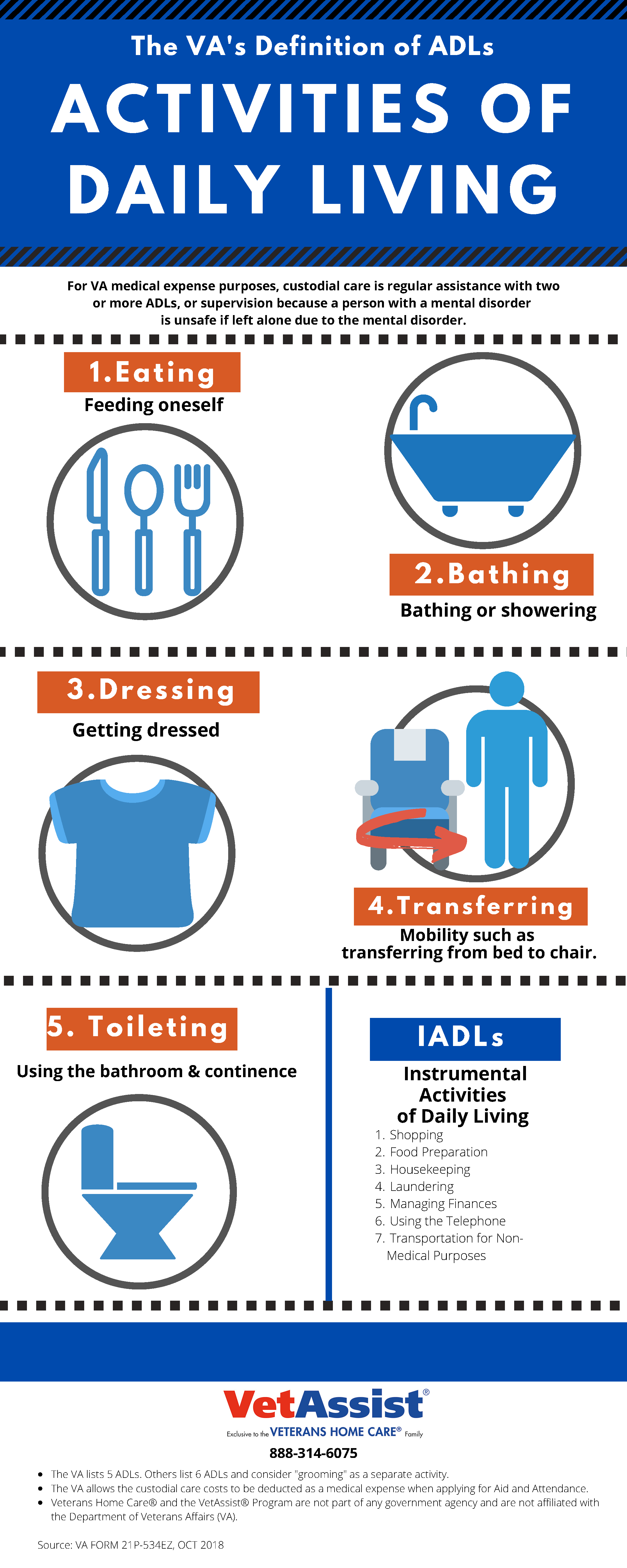 ADLs for VA Purposes

ADLs are basic personal tasks that individuals do themselves on a daily basis to live independently. The VA defines ADLs as five activities:
Eating,
Bathing/showering,
Dressing,
Using the toilet (continence), and
Transferring (mobility as in transferring from a chair to standing).
Watch video: CEO Veterans Home Care talks about ADLs
VA Requires 2 or More ADLs for the Aid and Attendance Benefit

The VA recognizes assistance with ADLs for medical expense purposes, such as when a disabled veteran (or the surviving spouse of a veteran) seeks financial aid for in-home care. Among other things, the claimant must need regular assistance with two or more ADLs or supervision due to a mental disorder to qualify for the Aid and Attendance benefit.
VA Criteria for Aid and Attendance Besides ADLs

Besides needing assistance with ADLs, the VA's other criteria for Aid and
Attendance eligibility is when a person:
• has corrected vision of 5/200 or less in both eyes; OR
• has concentric contraction of the visual field to 5 degrees; OR
• is a patient in a nursing home due to mental or physical incapacity; OR
• is bedridden apart from any prescribed course of convalescence or treatment.
ADLs were introduced at a hospital in the 1950s. Since then, many have refined and re-defined the ADLs. For example, some will have a list of 5, 6, or 7 ADLs by including grooming, mobility or memory as separate ADLs.
The concept has also expanded to include IADLs.
VA's Definition of IADLs

The VA defines Instrumental Activities of Daily Living (IADLs) as:
Shopping
Food preparation
Housekeeping
Laundering
Handling medications
Using the telephone
Transportation (except for medical purposes such as doctor visits)
VA Recognition of IADLs
VA guidelines can be somewhat confusing. For example, when applying for a VA benefit known as Aid and Attendance, VA Form 21-P-534-EZ states: The VA generally does not recognize assistance with Instrumental Activities of Daily Living (IADLs) as medical expenses but may consider them as part of their decision process. For example, there are questions on the form about IADLs. The VA will allow the cost of unreimbursed in-home care (or custodial care) delivered by a person without medical skills or training as a medical expense.

VA Terminology Differs Somewhat from Medicare

Meanwhile, the Centers for Medicare and Medicaid Services (CMS) do not consider help with ADLs medical care. It defines support with ADLs as: custodial care,unskilled care or long-term care. Medicare.gov stipulates that help with basic personal tasks such as ADLs do not qualify as medical care.
This is an important distinction to understand when checking into long-term care options for seniors. It may be one of the reasons people overlook the VA when seeking financial aid for long term care, home care or custodial care.
Wartime veterans or their surviving spouse who need assistance with ADLs may want to apply for the VA Pension with Aid and Attendance. Those who choose to use their benefits for in-home care, should contact Veterans Home Care for help 888-314-6075 or www.veteranshomecare.com.