Veteran's Elderly Care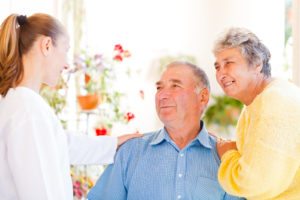 When you want to talk to your aging father about home care, even though he's a veteran of the United States military, there are some tips that can help. One thing many family members face when trying to convince an elderly loved one that home care is something to consider is defiance and refusal to even talk about it.
For veterans, there may be a number of obstacles they face in eventually accepting that they need some type of assistance at home. A sense of pride, independence, and strength are often pitted against the necessity for some type of support and care at home.
There's no reason to have to deal with that type of situation, especially when you follow certain tidbits of advice. Below are four steps you might consider taking to at least broach the topic about home care services, including hiring an aide, to help your elderly father with some basic tasks, and to remain safe.
Step #1: Be honest.
If you misrepresent certain facts or lie about things to try and get your father to at least consider the prospect of hiring home care aide and he finds out, it's going to create a much more difficult situation for you and him in the long run.
The best way to be honest is to just talk about your concerns about his safety, things you've observed, and why he should at least consider hiring a home care aide.
Step #2: Understand his perspective.
Your father may have certain concerns about home care support services. He may buy into various misconceptions about it, including that somebody you hire is only going to abuse him, take advantage of him, or steal from him.
He may not even accept the limitations he faces every day. Perhaps he's been relying on you, other family members, friends, or even neighbors to help with things for so long that he's gotten used to it and takes it for granted.
Don't argue, but rather understand his perspective.
Step #3: Listen.
Listen to what he has to say. You may be able to learn a great deal about his issues with home care services.
Step #4: Offer a financial solution. 
Maybe he fully understands the value of having in-home assistance but thinks home care is too expensive or he simply can't afford it. Let him know there may be financial assistance through the Department of Veterans Affairs (VA).  If he meet certain requirements, he could be eligible  for a  VA pension with an Aid and Attendance benefit to cover the cost of home care. Requirements include: military service with a minimum of one day during wartime, 90 days of active duty and an honorable discharge, financial limitations compared to medical expenses and medical need for daily assistance.
When you talk about these four things with him, it should help him be open to the prospect of relying on this type of support.
For more information and to learn about veteran's elderly care, contact Veteran's Home Care at (888) 314-6075.