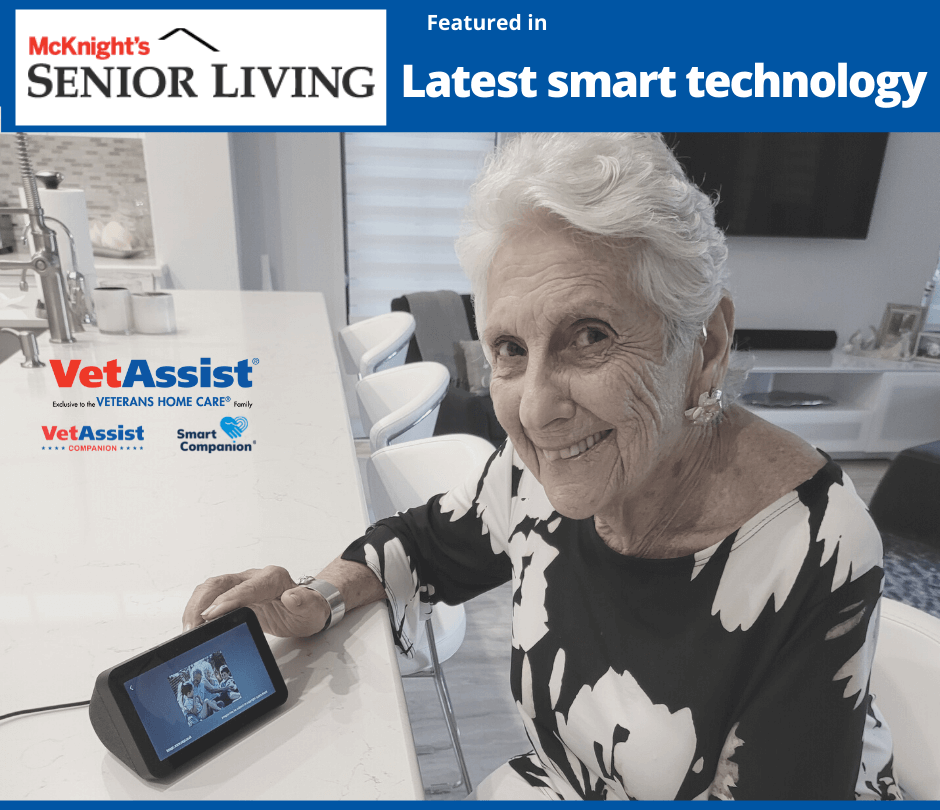 Mcknight's Senior Living publication featured Veterans Home Care's latest smart technology, the VetAssist Companion and the SmartCompanion in their July 6 article: New Smart Technology Devices Benefit Clients and Agencies. McKnight's is a national media outlet with news, perspective and analysis for owners, operators and leaders in senior care and senior housing including independent living, assisted living and memory care.
Veterans Home Care sought a smart technology solution for their clients and the 4,000+ home care providers throughout the country to fill the void when caregivers are not in the home, facilitate virtual care and provide a better option for medical alert devices.
The article focuses on the roll out of Veterans Home Care's Companion devices which provide 24/7 emergency response, voice activation and even video-enabled calls. This is accomplished through devices powered by Alexa® on a secure HIPAA-compliant network.
The Companion rollout began with our VetAssist Program® clients, veterans and veterans' spouses who qualify for the VA's Aid and Attendance benefit. VetAssist clients receive in-home care, provided by our contracted home care agencies, with no-out-of-pocket costs. Their device is branded as the VetAssist Companion®.
For those who do not qualify for VA benefits, the SmartCompanion® is available through contracted home care agencies in the client's provider network. Affordability is a key factor and, like other medical devices, may be covered by through insurance.
Clients just say, "Alexa, call for help," and they are connected to a 24/7 emergency response team. The system is pre-programmed and ready for plug 'n' play installation.
Calling is hands-free and enables clients to answer calls, call a pre-programmed list of people, or give Alexa a number to dial. Clients just say, "Alexa, call Jeff," or "Alexa, answer call."
Specific reminders can be programmed in. These can include phrases such as "remember to take your medicine" or "turn off the stove." All the fun and excitement of a typical Echo device with Alexa is included. Clients can ask Alexa questions, play games, listen to music, hear the news, and even request a joke. The Companion can be used as an in-home intercom system.
A recent example of the Companion in action occurred when Bonita Hoyle, an 86-year-old widow of a Korean War veteran in New Mexico, recently used her device to call 911 when she became sick.
Paramedics were called and, thankfully, she is doing well back at home. "It's a wonderful thing," she said about her Companion. "It couldn't be much simpler. It's wonderful to be able to speak and get a response."
Companion's technology works even when the internet is not available. It will be funneled to a nearby cell tower.
McKnight's invited Evan Kaltman, Veterans Home Care vice president of sales to be a guest columnist for this article.
Demand for this new smart technology is growing steadily.VetAssist homecare providers can partner with Veterans Home Care to offer both the SmartCompanion and the VetAssist Companion. Senior housing and other senior care providers can also contact SmartCompanion.care to learn more.
Seniors or families who want the Companion for their loved ones can visit www.veteranshomecare.com/companion or call 888-314-6075.