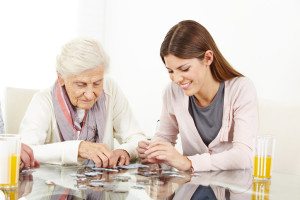 Women are living longer, yet their golden years aren't always bright and golden. The two biggest reasons why women struggle in old age are disability and lack of economic resources. Finding financial help or long term care can be a challenge, but there are VA benefits that may apply if the woman in need is a surviving spouse of a wartime veteran.
Elder Women Struggle with Poverty and Disability
Despite the fact that women live more years than men, they can expect fewer active years," said Vicki A. Freedman, a researcher at the University of Michigan who has studied disabilities among senior citizens.
According to the National Institute on Retirement Security, a nonprofit research center, women are 80 percent more likely than men to be impoverished at age 65 and older. Women age 75 to 79 are three times more likely.
The Department of Veterans Affairs (VA) offers a pension for women who are surviving spouses of wartime veterans and who are below the poverty level.
The VA is also a resource available to many elderly, low-income, disabled women who need assistance with activities of daily living such as bathing, dressing, and medication reminders. Yet these VA benefits for women are often overlooked.
How to Qualify for the Survivors Pension with Aid and Attendance
The Survivors Pension benefit, is a tax-free monetary benefit payable to a low-income,surviving spouse of a deceased veteran with wartime service.  The VA also offers an additional "Aid and Attendance" amount if the surviving spouse is disabled and needs assistance with activities of daily living.
In order to qualify, the deceased veteran must have:
Served a minimum of 90 days active duty,
Served with at least one day during wartime
Received an honorable discharge.
The surviving spouse of the deceased veteran must have been:
Married to the veteran for at least one year
Married to the veteran at this time of his/her death
And in most cases, has not remarried.
The VA doesn't notify surviving spouses that they are eligible. In fact, they don't notify veterans that they may be eligible for the Aid and Attendance Pension, so often these benefits go unclaimed. The application process can also be overwhelming for someone who needs assistance with daily living.
For more information and to learn about veterans aid and attendance, contact Veteran's Home Care at (888) 314-6075.