Veterans get help with Aid and Attendance benefit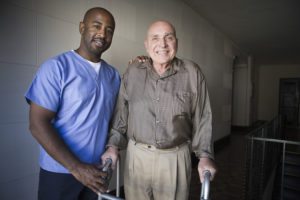 When people get older, they tend to have less strength with each passing year, sometimes making it difficult to get around on their own. It can also be difficult for them to perform basic daily living tasks. This can include: getting dressed in the morning, taking a bath or shower, preparing meals, or even going to the bathroom.
If that happens, home care may be necessary for the older adult to stay safely in his or her home. When home care for an elderly veteran is necessary, the Veterans Affairs Aid and Attendance benefit may be able to offer financial support to pay for home care.
Not every veteran qualifies for the Aid and Attendance benefit
The Aid and Attendance benefit is made available through Veterans Affairs, but it's only for specific veterans. In order to qualify, veterans must:
have been honorably discharged from service,
have limited financial resources
provide evidence that home care services are needed
served during a time of combat.
Veterans need to have served at least 90 days of active-duty service in one of the major branches of the U.S. military, with at least one of their days of service falling during a time of combat. Remember, the veteran didn't have to fight in combat, just serve during a time the United States was involved in combat as defined by Congress. These times of combat include: World War II, the Korean War, and the Vietnam Conflict. If they served during the Persian Gulf War, they must have served active duty for two years.
Veterans spouses are also eligible for financial aid
The Survivors Pension and Aid and Attendance benefit, is a tax-free monetary benefit payable to a low-income, surviving spouse, of a veteran that qualifies. The spouse is not eligible if they have remarried.
An important fact to keep in mind
Because of a backlog at the VA, it can take nine months or longer for an elderly veteran to hear whether he or she is approved for the Aid and Attendance benefit. As a result, it's important to fill out the application as soon as possible. If the veteran qualifies for the Aid and Attendance benefit, the veteran can receive payment retro actively from the date the VA received the fully-completed application.
Fill out all requested information
Anything that's left out of the application could be cause for being denied this particular pension with the Aid and Attendance benefit.
Veterans who have been denied other pensions may still qualify for this one
It's also important to note that veterans who may have been denied other pensions because they do not have a service-related disability, may still qualify for a pension with the Aid and Attendance benefit.
Help with VA claims is available
Finding the right support and information is important when seriously considering applying for this particular benefit. Veterans Home Care, a member of the Better Business Bureau (BBB), a family-owned company established  in 2003, can help answer some of your questions.
For more information and to learn about  Veterans Home Care and the VetAssit Program, contact Veteran's Home Care at (888) 314-6075.