The Value of Home Care for Older Adults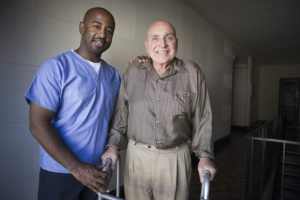 Home care can be a great support system for seniors who need help with "activities of daily living" sometimes referred to as "A.D.L.s." There are six A.D.L.s: eating, bathing, dressing, toileting, transferring (walking) and continence.
Not every senior that needs assistance will consider home care due to a variety of reasons. Some can rely on family members or friends to help them with  basic things they might need. Others may not know their is financial aid for that type of assistance. For example, the Department of Veterans Affairs offers a pension for wartime veterans and their surviving spouses for home care. Still others may be less inclined to ask or even accept help when it's needed.
For some disabled adults, it's a good idea to share just what home care could offer them. Below are five specific things that a home care aide may very well be able to offer an elderly person and why that senior should take some time to seriously consider hiring one of these aides through a reputable agency.
1. Support.
Home care aides can offer a great deal of physical and emotional support. That support can allow older, disabled adults to be safer, go to the bathroom, get up and down stairs, go to the store, go for walk outside, get dressed, and so much more.
2. Comfort.
As people get older, they will be dealing with increased chronic conditions, physical and health-related issues such as arthritis, congestive heart failure, diabetes, vision and hearing loss. If they live alone or don't have friends and family nearby, they may not be able to find comfort when they could use it.
An experienced home care aide may be able to provide comfort for that elderly veteran.
3. Companionship.
Older adults living alone who no longer drive, are not physically strong enough to go out for a walk on their own, or have other physical ailments may become lonely. A home care aide can offer companionship. An aide can visit with the senior, spend time with him, play games, and even encourage him to pursue certain activities or areas of interest.
4. Safety.
Through physical and emotional support, home care aides can improve safety for these elderly adults. Home care aides can  check the home for  safety risks. They can also address their client's concerns to help keep the senior feel safer within the comfort of his or her home.
5. Encouragement to stay active.
Home care aides understand how important it is to stay active and physically fit. They can offer encouragement for older adults to pursue things that may be of interest to them, whether it's volunteer work, playing games with friends, spending time with friends, or simply going for a walk outside.
For older adults who need assistance, home care can be a valuable asset.
For more information and to learn about veteran's care, contact Veteran's Home Care at (888) 314-6075.