Written by James F. about his experience helping his father apply for the VA Aid and Attendance benefit.
Starting Your Veteran's Aid & Attendance Application Process 
My father served during the Korean War. For most of his life, he was a strong, fiercely independent individual who would be there for you no matter what you needed. I wanted to do the same for him, and when it became clear that this veteran required home care, I wanted to find a way to help him get it and pay for it.
He was on a very limited income, less than $11,000 a year from Social Security and other pensions. We had heard about the VA Aid and Attendance benefit program and decided that we were going to apply for him.
He was still articulate and cogent, even though his physical abilities had diminished significantly. His doctor had recommended home care so this was an important aspect that was already covered.
I drove my father to the local VA to speak to somebody in person. We received the application form and going through it quickly, it was clear that we would be able to fill this out without too much trouble.
p id="E6″>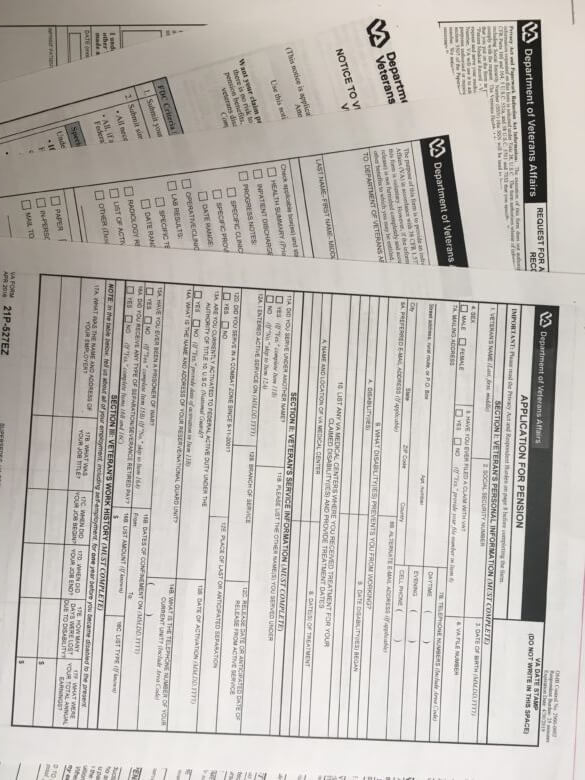 Your Veteran's Aid & Attendance application process includes VA Form 21P-527EZ April 2016 for veterans and VA Form 21P-534EZ July 2015 for surviving spouses.
Within a week, we had filled out the application and the doctor had sent in his formal recommendation for home care for my father. We submitted the application and actually expected a response in a month or less. After all, when someone requires home care, especially when they are in their 80s, you would think that the VA would step up and approve the application as soon as possible.
The Waiting Game When Your Application Process is Dragging Out
After the first month, I called the VA representative to find out what was going on with the application. I left message after message and never heard back. After a couple of weeks of this frustrating nonsense, I picked up my father and we headed back to the office. We sat for more than an hour, which is not easy for my father to do, just to speak to this representative again. He claimed that he didn't have any clue what was going on with the application and that we just needed to wait it out.
I got angry and told this person that waiting wasn't really an option, that my father really needed assistance and we couldn't afford it on our own. The individual simply apologized once again and said the same thing. We simply had to wait, and thought we had no other option.
How to Avoid The Waiting Game
Unfortunately, this situation is all too common among seniors waiting for approval of their Aid & Attendance Benefit application. But, there is help. Veterans Home Care offers the VetAssist® Program, for those who choose to use their VA Aid and Attendance funds primarily for in-home care or adult daycare. The VetAssist Program includes an interest-free loan so that your parent can start receiving home care for veterans while waiting for their application to be reviewed. The initial loan can be easily repaid as soon as the VA approves the application and issues retroactive funds to the veteran or the veteran's surviving spouse.
The VetAssist® Program also helps with the application process,  from obtaining the needed documents to monitoring the application's progress, providing you peace of mind and the opportunity to spend time with your loved one.
For more information and to learn about the VetAssist Program and the VA's Aid & Attendance benefit,  contact Veterans Home Care at 888-314-6075 or email info@veteranshomecare.com