Two St. Louis television stations KPLR 11 and KTVI FOX 2 chose Bonnie Laiderman as one of four St. Louis finalists from over 180 nominations for its Remarkable Women award.
"Remarkable Women" is a nationwide initiative that is part of Nexstar's celebration of Women's History Month and International Women's Day.  It is designed to honor the influence that women have had on public policy, social progress, and the quality of life in the United States. 
Nexstar spotlights local women who inspire, lead, and forge the way for other women. FOX 2 and KPLR 11 are St. Louis' Nexstar Media Inc. television stations. Laiderman and the other finalists were featured with TV interviews during the month of March.
Laiderman was honored because she started a unique family home care business in 2003 that helps veterans (or surviving spouses of veterans) find home care with no out-of-pocket costs. Since then, Veterans Home Care's has helped thousands of veterans and their surviving spouses who qualify, apply for a non-service related disability pension from the Department of Veterans Affairs (VA) called Aid and Attendance, which pays for assistance with activities of daily living in their homes.
The income and asset threshold to qualify for the VA Aid and Attendance benefit is about $138,000. However, during Laiderman's segment, which aired March 29, 2022, she recalled seeing some of the poorest veterans while making home visits, "some of the ceilings were leaking and the floors had holes from termites…"
Laiderman said to qualify, veterans must have served during wartime, but they did not have to go into battle.
The news segment also referenced another company, SmartCompanion Care LLC, Laiderman launched in 2020. "The home care agency also offers the latest technology through Alexa. They set up and customize the SmartCompanion to provide security around the clock," said Fox2 anchor Margie Ellisor. Unlike Alexa devices bought off the shelf that cannot automatically dial 911 without additional programming, the SmartCompanion is the latest in medical alert devices with all the fun and features of Alexa.
"If you fall down, all you have to do is say, 'Alexa, call for help,'" said Laiderman. It also enables voice-activated phone and video calling.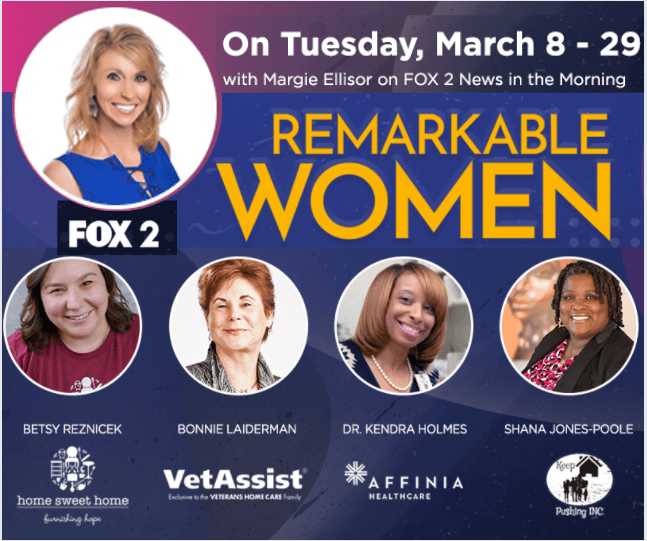 Other honorees news segments appeared earlier in March.
March 8, Betsy Reznicek, Home Sweet Home – provides underserved families with household furnishings to uplift and inspire hope by turning houses into homes.
March 15, Dr. Kendra Holmes, Affinia Healthcare – dynamic and transformative health system, providing affordable and primary/preventative health services to St. Louis residents.
March 22, Shana Jones-Poole, Keep-Pushing, Inc – provides resources to help neighbors transition back to stability.
"I don't do this for the accolades, yet I am grateful to Nexstar, FOX 2 and KPLR, to be honored and I am especially grateful to all those who have given so much for our country."
To learn more about VetAssist Program eligibility, call 888-314-6075 or go to: www.veteranshomecare.com/check-your-eligibility-for-the-vetassist-program/
To learn more about SmartCompanion, the latest Alexa powered medical alert technology and more, go to www.smartcompanion.care <!– wp:paragraph —