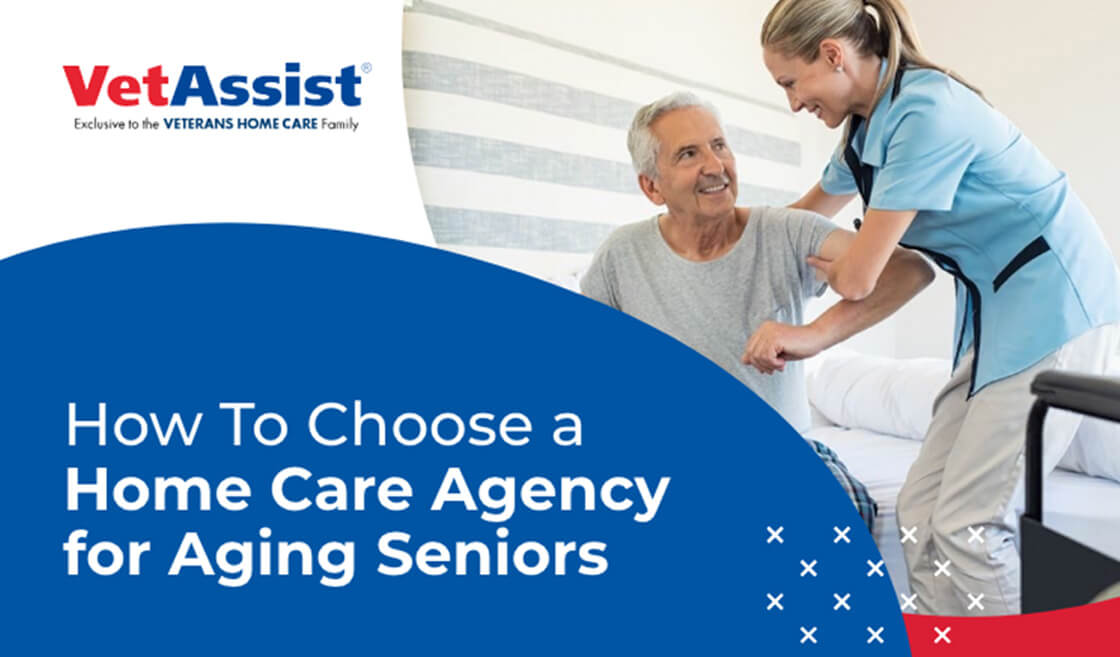 Remaining in a familiar home environment is often the preference for aging seniors, and there is significant benefit to this choice. Maintaining continuity and consistency can be a comfort as we age. Furthermore, major changes to surroundings and routines, not to mention leaving a home with years full of happy memories and rooms full of personal items, can create additional difficulties for seniors as they acclimate to their own evolving needs.
At some point these needs may surpass that which loved ones can easily accommodate. Many seniors, and their families, benefit from seeking a dedicated in-home caregiver who can help meet these needs on a regular basis.
Finding in-home care services for seniors can be tough. Below are a few steps to take and items to consider as you determine how to choose a home care agency (or individual) for your loved one.
How to Choose a Home Care Agency
Assess Needs
First and foremost, clarify the type of assistance your loved one needs as they begin aging at home. Start with activities of daily living, as these are the tasks with which non-health home care agencies are most familiar.
Basic Activities of Daily Living (ADLs)
Ambulating – moving from one place to another
Eating – choosing foods and feeding oneself
Dressing – selecting and donning appropriate clothing
Personal Hygiene – bathing, grooming, and maintaining dental, nail, and hair care.
Continence – controlling bladder and bowel function
Toileting – getting to and from toilet and using it appropriately
Above and beyond these basic ADLs, there are additional activities which require more complex thinking and organizational skills. These are called instrumental ADLs (IADLs) and are often the first tasks with which aging seniors require assistance.
Transportation
Shopping
Managing finances
Meal preparation
Housekeeping
Home maintenance
Communication
Consider Time Requirements
You'll also want to consider the amount of time a caregiver will need to spend with your loved one, as different levels of care require different amounts of service. Typically, that service is measured in hours and agencies often require a daily minimum of anywhere from 2-4 hours of care.
Determine Budget
Whether we like it or not, in home care costs are often a limiting factor when it comes to hiring a caregiver. Tips for managing these costs usually start with establishing a budget. It's best to have a clear grasp on the financial side of things before approaching an in-home care agency.
Don't forget that there are sources of funding available which can ease the financial burden of senior care costs. For instance, the VA's Aid and Attendance Pension Benefit offers tax-free monthly payments to certain wartime vets and their survivors to help cover the cost of in home care.
Start the Search
Once you've got a clear understanding of how to hire in home caregivers, you can begin your search. Here are a few considerations to keep in mind as you research, meet, and interview potential caregivers.
How to Find Caregivers
When looking for a caregiver, referrals are a great place to start. Ask friends, neighbors, or family members for information about the in-home caregiver assistance they receive.
In the absence of a referral from someone you know and trust, there are several resources available to help find trustworthy home care. The National Association for Homecare and Hospice maintains a database of more than 30,000 home care and hospice agencies.
Additionally, programs like VetAssist can provide reputable home care through their network of reliable providers.
Types of Care Agencies
The type of agency you go with (or if you decide to go with an agency at all) is a personal choice. Just be aware that there are many options available!
The size, makeup, and business model of home care agencies can vary greatly. Some agencies are owned and operated by a corporation. Some are franchises with familiar names. And some are smaller and privately owned.
Furthermore, some agencies specialize in specific types of in-home care. Depending on the needs of your loved one, it might be worthwhile to search for an agency with extensive experience in memory care, care for patients with movement disorders, joint replacements, etc.
Keep in mind that variations in business models, specialties, even location can impact pricing for in-home care. Regardless of which direction you choose to go, it will take direct interaction with both management and caregivers to get a good feel for the organization.
Licensing
If you're using a program like VetAssist, the vetting process will be done for you. But if you're going it alone, you'll definitely need to consider the credentials of any in home care agency or agent. Licensing laws for non-medical home care vary by state. Before you begin interviewing agencies, take a peek into the regulations that govern your area.
Ask About Care Management
Once you've narrowed down your search to a few options, it's time to talk to each. Before making a hiring decision, learn about the individual's or agency's processes.
Care Planning
In home care isn't a one-size-fits-all solution. Every client has different needs.
How are new clients evaluated?
Are individualized care plans created?
What happens if there are changes to the level of care required?
Caregiver Selection
It's important that thought is given to pairing the appropriate caregiver with your loved one.
Is there consistency in the caregiver(s) who will be attending to your loved one?
How does an agency decide which caregiver to place with which client?
Will the caregiver have experience with your family member's individual needs?
Communication
Establishing a clear communication plan is of upmost importance when it comes to monitoring care.
Who will the caregiver communicate with?
Who will the agency communicate with?
How are client concerns handled, and by whom?
What forms of communication are available (phone, email, text)?
Policies and Procedures
It doesn't matter how great the company, how perfect the caregiver, or how happy your loved one is with their service. Logistical concerns will arise. It just happens. Here is a list of items you may want to inquire about in advance, in case you need the answers down the road.
How to file a complaint
Handling of unplanned caretaker absences
Process for making a schedule change
Process for requesting a new caregiver
Notice required to cancel a visit (by either the caregiver or the client)
Protocol for responding to emergencies
Steps required to expand the level of care
Types of records kept by the agency or individual
Monitor
There is no substitute for in-person observation. Of course, you'll check in with your loved one after a new caregiver starts. But discussing their care only provides part of the picture. To get an idea of how things are really going and how comfortable your loved one is with their caregiver, pop in from time to time.
It is tempting to let unplanned visits take a backseat as everyone becomes more comfortable with the arrangement. After all, if you had a significant amount of extra time to give, you might not need a caregiver to begin with, right? But it's a good idea to remain consistent with these "pop-ins." They may provide the first, or only, indication that a change is needed.
Get Help with Home Care
If you are a wartime Veteran or a surviving spouse of a wartime Veteran, you may be eligible for funding through the VA Pension with Aid and Attendance. Veterans Home Care can help apply for and arrange home care utilizing this benefit. We assist you file the claim, discuss care options, arrange for caregivers, and get it all started right away.
Often, one of the first things our clients ask is "How do I get in home care quickly?" But that's not a worry when working with Veterans Home Care's exclusive VetAssist Program. Once we ship your completed file to the VA, we can begin your care services.
For more information about how to choose a home care agency, or to learn about the VA Pension with Aid and Attendance, contact Veterans Home Care at (888) 314-6075.