VA Home Care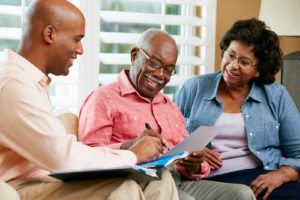 There are an estimated 19.3 million veterans living in the United States right now and 9.4 million are age 65 or older. Many of these senior veterans may be unaware of the Aid Attendance benefit and how it may help them pay for the beneficial services of home care.
Pensions from the Department of Veterans Affairs, (VA) were designed to help veterans and their families cope with financial challenges by providing supplemental income through the Veterans Pension benefit. The Veterans Pension is a tax-free monetary benefit payable to low-income wartime veterans or their qualifying dependents. Aid and Attendance is an amount awarded in addition to the basic pension when a person is disabled and needs the aid and assistance of another for daily activities. This benefit takes into account a person's unreimbursed (out-of-pocket) medical expenses. These medical expenses are subtracted from a person's gross income to determine eligibility.
The veteran needs to be able to prove assistance at home is a necessity for safety and activities of daily living (ADLs) to get the additional Aid and Attendance monetary benefit.
Why don't more veterans know about this pension?
Many veterans don't realize there are benefits available to them if they were NOT injured or disabled during their military service.
The VA offers two types of financial assistance to veterans and their dependents:
Compensation– for those who were disabled or died during service
Pension– for those who are in financial need and have a non-service-connected disability.
The VA doesn't contact veterans who may be eligible for a pension, but they do have information about it at www.VA.gov.
How can we, as a country, help these veterans become aware of the Aid and Attendance Benefit? Learning as much as possible about this particular pension and then sharing it with family members and friends, either through conversation or social media, is one great step in the right direction.
What should people know about the VA pension with Aid and Attendance?
For those veterans or their surviving spouses who qualify, it can provide financial assistance to pay for home care services, incontinence supplies, medical alert devices and more.
Veterans need to have served at least 90 days active duty in one of the major branches of the United States military. If a veteran served any time during the Gulf War, they need to have served a minimum of two years active duty.
At least one day of their service needs to have been during a time of war as defined by Congress. This generally includes World War II, the Korean War, the Vietnam War, and the Gulf War.
They need to be honorably discharged from their service.
They need to prove they have a disability that requires assistance with activities of daily living: eating, bathing, dressing, mobility and use of the toilet.
Finally, they need to prove they have limited income and assets that meet the VA guidelines.
The more people share this information, the more likely veterans, especially those in need, will hear about the Aid and Attendance Benefit and that can be all they need to get necessary support.
For more information and to learn about VA home care, contact Veteran's Home Care at (888) 314-6075.