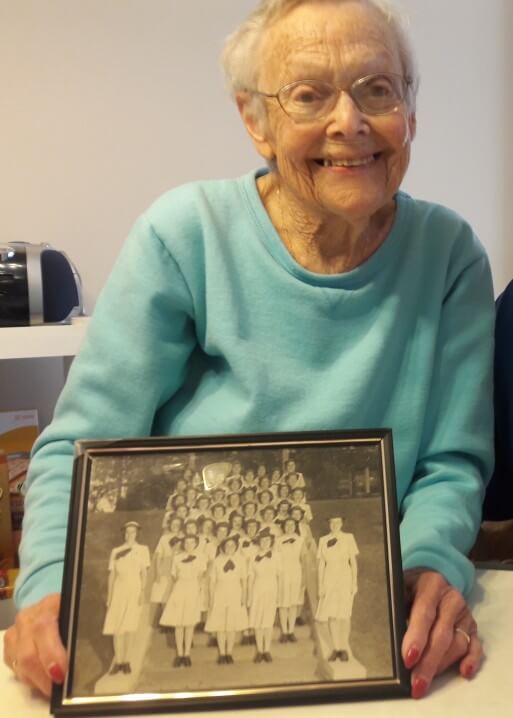 Veteran Americans who thank veterans for their service should supersize their gratitude to Charlotte Silverman Bowman of Philadelphia. She's the matriarch of a family that represents the finest of this country's rich military traditions.
Mrs. Bowman, who turned 96 in October, is still going strong, thanks to the care of daughter Jessica, with whom she lives, and assistance provided by Hands from the Heart home care, as arranged by Veterans Home Care though the VetAssist® Program. The benefit enables people like Charlotte to keep living independently.
What is VetAssist?
The VetAssist Program assists eligible veterans or their surviving spouses with a little-known benefit called "Aid and Attendance" from the Department of Veterans Affairs (VA). Veterans and their surviving spouses receive home care and assistance with activities of daily living, thanks to an interest-free loan covering expenses while their application processes. In short, the VetAssist Program helps takes care of the men and women who took care of our country.
A Proud Tradition of Military Service & Caregiving
Then known as Charlotte Silverman, she was through high school and living in the Strawberry Mansion section of north Philly when she entered Women Accepted for Volunteer Emergency Service – better known as WAVES, which was a branch of the Naval Reserve during World War II. She completed her training in the Bronx section of New York and worked in a Navy office.
"I had three brothers who were in the Air Force. The whole country was at war, and this was a way I could do my part," said Mrs. Bowman, who is the youngest of ten children. "I was just 20 and living with my parents when I went in."
She served through the end of the war and would have been in longer, but her mom was diagnosed with cancer. Charlotte was granted an honorable discharge to care for her mom. That's what her family did. And still does.
Back at home, she cared for her mom while her father worked during the day. At night, she worked a job while her dad was with her mother. As a waitress in post-war Philadelphia, Charlotte became accustomed to drawing – and ignoring – the attention of young men.
Then, one evening, a railroad man walked into the restaurant with his supervisor.
"I was used to all kinds of passes," she said with a laugh. "But this guy didn't do that, and I liked the way he behaved. He was a gentleman, and I could see that right away."
Bart Bowman also liked what he saw. He became a regular at the restaurant, and the brakeman and waitress became fast friends. Soon, they were more than that. 
"He asked my mother, not my father, if he could marry me," Charlotte fondly recalls. "She said if that's what Charlotte wants, okay." 
Charlotte Silverman and Bart Bowman were married in Philadelphia Aug. 8, 1948.
A year later, Susan, the first of six children was born.
From Patton to The Pennsy
Bart continued with the Pennsylvania Railroad, which in the 1880s was the largest corporation in the world. The budget of "The Pennsy" was reputed to be second only to that of the U.S. government. Bart's father had worked for it. And his grandfather.
Bart, who served as an MP with Gen. Patton's Third Army in Europe, was a brakeman and eventually engineer on freight trains. It was steady work but hardly put the Bowmans in the lap of luxury.
"My mom and dad were just good people. They had nothing, but we all turned out good," said daughter Jessica. "It says something about kids that don't get all they want. We appreciated it when we got something."
Such as when mom returned home from her part-time job at the Dairy Maid Confection Company.
"We couldn't wait for her to get home with candy samples," Jessica recalled. "She taught us to look at the twirls on top of each piece and tell what was inside."
Life in the Bowman household was spiced with simple pleasures, along with an abiding affection for family and country.
"We didn't have a car, but we were raised with a lot of love. We used to walk up to church in Logan (north Philadelphia) every week. And everybody ate Sunday dinner. It was nothing fancy; we didn't have steaks or anything. Spaghetti and meatballs, or meatloaf."
It wouldn't cut with a fork
Which brought Jessica to another favorite memory.
"We didn't know we didn't have everything. Our parents were SO caring of us," she said. "I didn't know about some things until I went on my first date. He ordered steak for both us. I held my fork on the steak and couldn't understand why it wouldn't cut. . . . We never had that kind of stuff. But we had the kind of love you don't see as much anymore."
Charlotte and Bart's kids arrived roughly every two years. After, Susan came the two boys, Michael and Paul. Then Jessica, Ruth Ann, and Elaine. 
Bart drove huge trains, but he didn't get a driver's license to operate a car until he was 45. 
Michael served in Vietnam. Elaine spent four years in the military in Okinawa, Japan.
As with most families, there were hardships to be endured. The worst was the year Charlotte lost two grandsons. Jessica's son, Robert, died of a rare form of cancer. A few months later, Elaine's son, Darryl, who was a sniper in Iraq for two years, shot himself, a year and a half after returning, a victim of PTSD. Both were 26 years old.
Devastated
"You're not supposed to see something like that happen to sons or grandsons," Jessica said. "She was devastated, and it took a lot to devastate my mom. Losing two grandkids was just awful."
Bart died a decade ago, at age 85. Charlotte, despite some osteoporosis, remains healthy, and her kids have made a big deal out of every birthday since she turned 90. She attends church every week at Bethesda Presbyterian, where Bart sang in the choir for 30 years, and enjoys walks at the mall. She figures all that walking growing up and though adulthood kept her away from surgeons while contemporaries were getting knee and hip replacements.
"I didn't drink, didn't smoke, and didn't have some of the other bad habits some people have," she said. "I tried to make my children understand that nothing comes easily, and you have to work hard to make a good life for yourself and your family. . . . I've had a wonderful life. My children have always been there for me."
Can VetAssist help your situation?
Those who wish to apply for Aid and Attendance, and choose to use their funds for in-home care or adult day care should look into VetAssist. The VetAssist Program is offered by Veterans Home Care, LLC, a private, family-owned business. While the company charges a market rate for care, no fees are ever charged to assist veterans or their families with VA paperwork or for a loan to provide care before VA entitlement.
To be eligible from Aid and Attendance, a veteran must have "the 3 M's" . . .
• Military: Are you a veteran or the surviving spouse of a veteran who served at least 90 days on active duty, at least one day during wartime, with an honorable discharge? (Persian Gulf War veterans must have two years of active duty or the full period of which they were called for active duty.)
• Medical: Do you have a non service-connected medical condition causing you to need assistance with activities of daily living?
• Money: Do you have limited income and assets? (Your home and car are exempt.)
Not sure if you qualify?
If you or a loved one is interested in learning more about the VetAssist Program, for both wartime veterans and their surviving spouses, please call 1-888-314-6075 or email: referrals@veteranshomecare.com