Learn more about the Veterans Home Care's VetAssist Program that connects veterans and their surviving spouses to home care with no out-of-pocket costs by listening to a popular podcast: Rise Up Network Podcast #213.
Rise Up Network Host James Carmody interviewed Veterans Home Care Territory Manager Carmen Perry and Regional Manager Mark Quinette to create awareness of a little-known VA benefit that pays as much as $2,265 per month for a veteran and surviving spouse to assist them with long-term care. They also explained how their company's VetAssist Program helps those who qualify complete the paperwork and access funds to start in-home care before VA claim processing and entitlement. The VetAssist Program bridges the gap for those eligible for VA Aid and Attendance pension. VetAssist clients don't have to wait months for their in-home care to begin.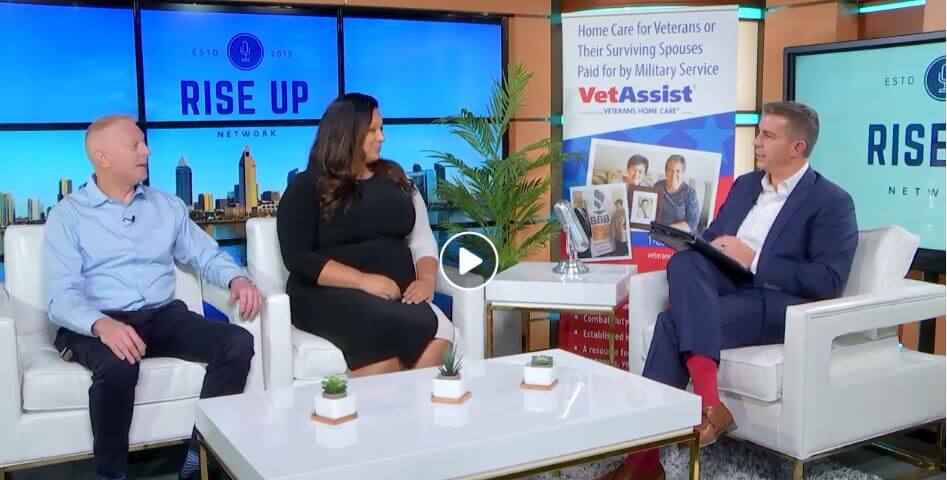 "As a veteran, I could have qualified for military benefits that I didn't know about," says VetAssist Regional Manager Mark Quinette. "I'm here to get the word out as much as possible." Mark also spoke of the surviving spouses of wartime veterans and Vietnam era veterans who are at risk of missing out on the benefit. "Many of the Vietnam veterans often had no connection with the VA or the military whatsoever after they got out and that's a very deserving category of veterans who may be eligible."
"Home care is needed for those seniors who want to safely remain in their homes, live with dignity and age in place," says VetAssist Territory Manager Carmen Perry.
While these VetAssist Managers are based in California, Veterans Home Care offers its VetAssist Program in 46 states coast-to-coast.
Call 888-314-6075 if you're a home care agency or an adult day care provider who would like to partner with us.
Do you know an elderly veteran or the surviving spouse of an veteran who needs help at home?
Call 888-314-6075 to learn if your loved one is eligible.
Listen to the full podcast:
Spotify: https://spoti.fi/2sJ8x2