A little-known pension available to low-income, wartime veterans and their surviving spouses, Aid and Attendance, is still making news even though the benefit has been available for decades. KTRS Radio hosts John Grayson and Jennifer Blome recently examined the topic with Bonnie Laiderman, president of Veterans Home Care.
Veterans Home Care offers their VetAssist Program for those who need help accessing the Department of Veterans Affairs (VA) pension and in-home care. Laiderman is the St. Louis entrepreneur who developed a successful for-profit home care company to fill the void in the marketplace.
Click here to listen to the radio broadcast.
Here's the entire conversation between KTRS radio hosts and Bonnie Laiderman: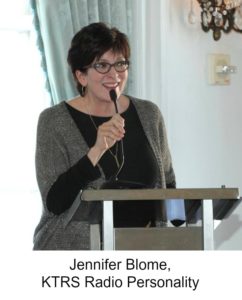 Jennifer Blome-KTRS:  Bonnie's the president of Veterans Home Care and I met Bonnie some months ago and she was honored by the Better Business Bureau at their annual Torch Awards. Bonnie, thank you for joining us.
Bonnie Laiderman-VHC: Thank you.
Jennifer Blome-KTRS: So what is Veterans Home Care?
Bonnie Laiderman-VHC: Veterans Home Care is a company that assists and coordinates a pension, (that's a little-known pension) called Aid and Attendance for veterans and surviving spouses of veterans from wartime. So there are three war times that this applies this applies to. But I'll tell you more later.
Jennifer Blome-KTRS: When you say little-known, you mean the veterans don't know about it and their spouses don't know about it?
Bonnie Laiderman-VHC: That's absolutely correct.
Jon Grayson-KTRS: So what kind of benefits are available through that?
Bonnie Laiderman-VHC: You can obtain money through this pension to pay for home care with home care that will help you with assistance to daily living activities so people can age in place.
Jennifer Blome-KTRS:  And so what's the procedure? How does it work in case we have a spouse, surviving spouse, you said?
Bonnie Laiderman-VHC: Yes
Jennifer Blome-KTRS: Or a veteran in our listening audience?
Bonnie Laiderman-VHC: The procedure is very difficult and I don't mean difficult in that you can't get it.  It's just hard to navigate. And the reason I started this company is my mom was a surviving spouse of a veteran and lived in Fort Lauderdale. I live in St. Louis, Missouri and she needed help. Her income was $633 a month. This is 15 years ago. My mom could not get help from anyone, even Medicaid, and I was desperate. I would go down for one week out of the month. I would set her up, take her to chemo and put food in her refrigerator to come back the following month. She would not move to St. Louis because she felt she was giving up everything she knew. Therefore, I went around begging people, going to organizations, seeing what I could get from my mom because it was very embarrassing for my mom to have me come down. It was just horrible and I found out from a source that the VA has a pension. It's called Aid and Attendance and this might help my mom.
"Is she a veteran or a surviving spouse of a veteran of war time?" and I jumped up and down and I said, "Yes, can you help me?" And they said yes if she gets all the papers together which were needed which was: my dad's discharge paper, their marriage license and I'm forgetting the third thing. But anyway I came home and I was so depressed because my dad had been dead 20 years. And I said to my mom, "Mom you're not going to believe this…," And she says, "Bonnie, turn around and go to that drawer over there. Everything's there." I'm all excited again and I'm jumping up and down. And the next day the doctor called and said mom was terminal to bring her back to St. Louis.
Jon Grayson-KTRS: Oh, Wow.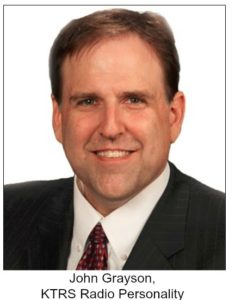 Bonnie Laiderman-VHC: I was so deflated and angry. I was so angry that something was available and I didn't know about it. My mom didn't know about it. Nobody knew about it. And I vowed to my mom right there. I am starting a new company. At that time, I had my own company. My husband and I were in business together and she looked at me and she just said, "I believe you, Bonnie."
Jon Grayson-KTRS: And when you think about how different those years could have been for her had that benefit been there for her the whole way along.
Bonnie Laiderman-VHC: I had never been so upset and deflated in all my life. And I said, you know it was good. Do you know why it was good? I had so much energy…
Jon Grayson-KTRS: Purpose
Bonnie Laiderman-VHC: … from that anger. The first thing I thought of was, how many people out there are in my position? How many people don't know about this program? I started doing my research and I found out how many veterans there were in this world. And it's absolutely staggering. And no one knew about this program. So 2003, I open my doors. And trust me, I did not know what I was doing. I had no idea. But I'm very open. I'm very friendly. I have no problem with networking and that was the first thing I did. I learned what home care was and who to go to and how to start this. And I've been very successful in the 15 years I'm in business. We've helped over 14,000 veterans and surviving spouses.
The (our VetAssist) Program is a little complicated. It has what we call the three M's.
You must have "Military." You have to have served during a war time, which the three wartimes we work with are World War II, Korean War, and the Vietnam War. The veteran has to have served active duty 90 days but with one day serving during one of the three war times. That's easy. That's cut and dry.
The second is "Medical." You must have a medical condition that gives you 60 percent housebound. That's also clear.
The third is "Money." That's the most complicated part. It's mostly for indigent people. So if you have a lot of assets, anything over $80,000, you will not qualify. Most people have more. But the people that have less are in such bad need of this program. It's staggering. It's just unbelievably eye-opening how many people-- how many women-- live on under a thousand dollars a month.
Jon Grayson-KTRS: Right. And hundreds of thousands of people are potentially affected by this. I do have one question about the military service. Does it have to have been in combat?
Bonnie Laiderman-VHC: No, not at all.
Jon Grayson-KTRS: So, if you serve stateside during a war…
Bonnie Laiderman-VHC: You merely had to be in active duty (with one day of active duty during wartime.)
Jon Grayson-KTRS: Got it.
Jennifer Blome-KTRS: And in case you're just joining us Bonnie Laiderman is the president of Veterans Home Care. So Bonnie what's the best way for people to get in touch with your company if they need help and I'm sure we have some surviving spouses and perhaps veterans listening.
Bonnie Laiderman-VHC: Yes. The best way is to call the 1-888 (toll free) number.
Jennifer Blome-KTRS: Yes, We have 1-888-314-6075 and Bonnie's been talking about this little-known benefit called Aid and Attendance. And also you can email: info@VeteransHomeCare.com
Jon Grayson-KTRS: And www.VeteransHomeCare.com is the web site as well. So if you want more information about it you can certainly go there and find some. It's a terrific program. So talk about some of the successes that you've had over the years.
Bonnie Laiderman-VHC:  Well, we currently have 2,524 clients through 44 states in the United States. We have 14 offices. I'm sorry. We have ten offices in 14 states and we have people on the ground that will come into the home. And what we call "kitchen-table-talk." And we meet with the family. We do not do anything with the veteran or surviving spouse by themselves. This is a very involved situation. They need paperwork. We're talking about very personal information. We need to see three months bank statements to make sure that we can tell the government what we are saying is true.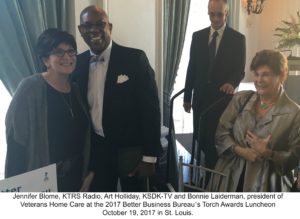 Jennifer Blome-KTRS: And then how do you get paid, Bonnie? How does Veterans Home Care get paid?
Bonnie Laiderman-VHC:  Very good question. I'm so glad you asked. We get paid and earn our living on the home care. We never charge a client a fee, never (for helping veterans obtain their Aid and Attendance benefit).
The way this works is we actually work with almost 3,000 home care agencies throughout the United States. They give us a slightly discounted rate and we charge the client the market rate and that difference is how we earn a living. So we earn our living on home care.
Jennifer Blome-KTRS: But the surviving spouse or the veteran, if they're entitled to this Aid and Attendance benefit, they get the home care for free?
Bonnie Laiderman-VHC: Well they are paying for it through the pension.
Jennifer Blome-KTRS: OK. So they're using their pension that they didn't even know about. That's amazing.
Bonnie Laiderman-VHC: Correct. What we do for them is we give them an interest-free loan. So in order to get this pension you have to be getting home care, in most cases, and in order to get home care, people that are indigent can't afford to pay for their home care. So we don't actually give them money. We get them home care almost immediately.
Jennifer Blome-KTRS: That's the best part about it is that they don't have to wait. And I'm curious because with your experience you've obviously learned a lot about the way the system works.
Bonnie Laiderman-VHC: Yes I have.
Jon Grayson-KTRS: And there have to be other benefits that are out there that would affect people in different situations from this.
Bonnie Laiderman-VHC: Yes there are.
Jon Grayson-KTRS: Why is the government so reticent about this?  Why aren't they out there waving the flag going, "Hey this money is out here for you?"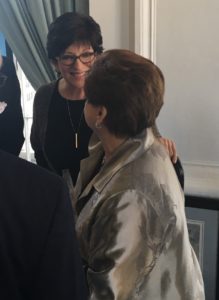 Bonnie Laiderman-VHC:  Well I have to honestly say in 2003 I opened up Pandora's Box. But on behalf of the VA, which is a wonderful organization, and really not their fault. There are nine million veterans surviving past the age of 65. Not everybody could get this pension because the government would go broke. So it was not really well known before because of that. And my feeling is the people that get this are called the forgotten people in my book because their children are grown. Their children have moved to other states. Even when they have children right here, children have families. Everybody has a job. It's so hard to take care of your elderly parent. And this is such a good way.
Jennifer Blome-KTRS: Bonnie Laiderman thank you so much for joining us VeteransHomeCare.com and there's a phone number: 888-314-6075. Or you can go to a www.VeteransHomeCare.com and get all the information that you need. I mean it's incredible to me that such a thing exists and people did not know about it. But you're doing a great thing for our veterans.
Bonnie Laiderman-VHC:  Well thank you very much for having me.
Jon Grayson-KTRS: You got it. And thank you for shaking the trees and finding all of us. That's wonderful. It's great to hear that somebody is out there doing that kind of work and that they're able to help so many people.
Jennifer Blome-KTRS: We want to help our veterans and you are doing that Bonnie Laiderman. Thanks so much for joining us.
Bonnie Laiderman-VHC:  You're welcome.
Jon Grayson-KTRS: We are very impressed!