"It has given me a whole new life," says Ivanette Goodrich, about the VetAssist Program, which helps disabled veterans or their surviving spouses.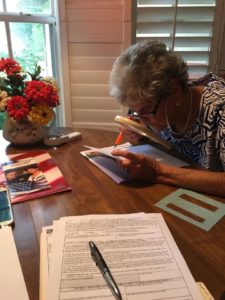 Ivanette, age 90 from Sebastian, Florida struggles with severe vision loss and some very serious eye problems. She has had five eye surgeries, including corneal transplants and can no longer drive a car. She has three different eye doctors that she must see regularly, as well as her primary care physician. "Otherwise I'm good physical condition and I don't any medication other than vitamins, not even high blood pressure. I'm truly blessed," she says.
In 2012, Ivanette lost her husband Myron, the love of her life and a veteran, who served as a Navy mechanic in the late 1940's. They had met ironically at a going away party for a cousin who had joined the Coast Guard. Myron caught her eye and they dated, but he soon joined the Navy. Upon his return from the service, they were married and inseparable for over 60 years. She still talks to his ashes that she keeps in an urn in her dresser when she needs a little encouragement!
"I was very smart in giving up driving. I saved someone's life and probably my own too," says Ivanette. Yet, becoming housebound took its toll. "What I needed most was to get out of the house. I could never leave and was a slave to my house. Thank goodness my daughter, who is an occupational therapist, found a VetAssist brochure at an industry seminar and sent it to me. I was thrilled!"
The VetAssist Program provides in-home care to wartime veterans and surviving spouses so they can remain where they want to be – in their home.
Soon after she read the brochure, Ivanette called and then was visited by Rebecca Ott, VetAssist regional manager, and enrolled in the VetAssist Program. "It has given me a whole new life!"
The VetAssist Program can provide assistance such as: help with bathing, help with dressing, medication reminders, meal preparation, transferring in and out of bed, light housekeeping, laundry, personal care and, especially in Ivanette's case, transportation.
Her caregiver, Marjorie, takes her to the doctor, to the store, does light housekeeping and is there for her.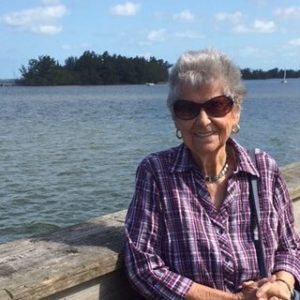 Inititaly, the VetAssist Program helped Ivanette apply for a little-known VA benefit known as "Aid and Attendance" which enables her to pay for her home care. Now that Ivanette receives the monthly benefit from the VA, the VetAssist Program monitors her home care, and assures that you get the services you need.
The client service team at VetAssist also tracks medical expenses to help Ivanette stay in compliance with the VA and retain the maximum allowable pension amount. For example, when Ivanette was hospitalized a month for her surgeries, she didn't need home care service. Instead of letting that VA money go unused for medical expenses, VetAssist recommended that she use her VA pension that month to pay for eye expenses, instead of home care.
Now Ivanette has her caregiver Marjorie along with her dear neighbors, her loving daughters and grandchildren to enjoy life and age in place.
Note: In Florida, the VetAssist Program is offered by VetAssist, LLC, part of the family of private, for-profit companies that operates as Veterans Home Care in most states nationwide.
Interviewing and talking with Ivanette was a tremendous pleasure. Ivanette has 20/20 vision of life and is the most energetic, thankful and happy person you could ever imagine! She literally embraces and loves every minute of her existence and says she is truly blessed.
We are proud to salute our nation's veterans and share their stories. At Veterans Home Care , we've helped thousands of veterans and surviving spouses get the care they need. Our exclusive VetAssist Program assists wartime veterans and their families in applying for a little-known benefit from the Department of Veterans Affairs, (VA) to pay for assistance with activities of daily living. This includes home care and adult day care. To learn more, call us at 888-314-6075.