5 Reasons Social Interaction is Essential for Seniors
A strong support system is beneficial to all human beings, but not all support systems are created equal. Friendships and social interaction play a role in creating quality of life at all stages of maturity. It's important to note, however, that the importance of close social ties increases as we age.
Benefits of Social Interaction for the Elderly
Immune Function
The effects of loneliness on seniors can be detrimental. It's been proven that seniors who feel a sense of belonging are better able to fight off illness and disease. For this reason, connecting with grandparents and elderly parents can help maintain their immune systems over time.
Lower Blood Pressure
The importance of social interaction for the elderly can't be understated. But it's how seniors perceive their support that has an impact on blood pressure. The more satisfied a person is with their social groups, the lower their blood pressure is likely to be.
Recovery from Illness or Injury
Not only does making friends as a senior have a positive impact on specific health markers, it can also help restore normal function after illness or injury. One of the many benefits of social interaction for elderly patients is speedier recovery following health hurdles.
Memory Function
There is a correlation between strong cognitive function and elderly socializing. It is not certain whether the act of socializing helps preserve memory or whether feeling isolated has a negative impact on cognition. Either way, avoiding loneliness in elderly patients helps to maintain memory function.
Longevity
There is also a distinct, positive correlation between the strength of a person's social relationships and his or her longevity. The physical and emotional benefits of connecting with elderly parents, grandparents or loved ones lead them to live longer, happier lives.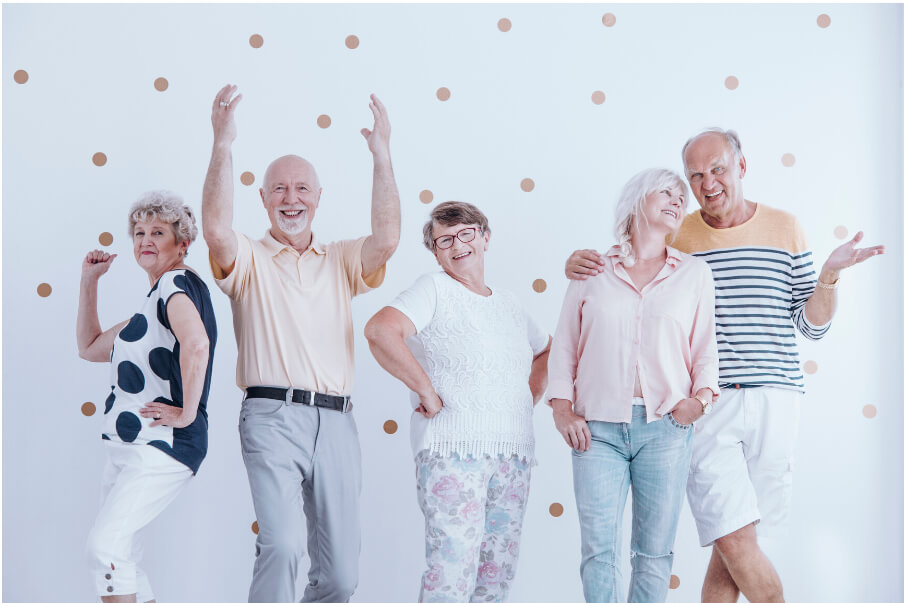 How Can Seniors Stay Social?
It's easy to understand the importance of social interaction for elderly patients, but it's not always easy to facilitate it. Here are a few ideas to help meet the social needs of an older person.
Volunteer
A sense of purpose has far reaching benefits, including fewer feelings of isolation. On top of this, most volunteer work is completed in a social setting, so this solution offers double the benefits in terms of maintaining social groups for elderly patients.
Opt for assisted living
Most assisted living facilities cater to the social needs of elderly residents by hosting events such as card games, movie nights, bingo, etc. Additionally, seniors live with or near other senior citizens. Social groups and meaningful friendships are easier to cultivate when surrounded by people with similar schedules and circumstances.
Join a senior center
If assisted living isn't an option, encourage elderly loved ones to join a senior center. Again, they will be surrounded by other seniors, and socialization will likely be a bit easier. These centers understand the importance of friendships with the elderly and can help combat loneliness by providing many types of social support for older adults.
Exercise
Just taking a walk at the same time each day can at the result in the development of social groups. For elderly patients who want to take it a step further, exercise classes and competitive sports such as aqua aerobics or pickleball are great opportunities to get moving and make friends.
Dine with others
Connecting with grandparents or elderly parents over a meal is a simple way to meet the social needs of an older person. Additionally, regular dinners with old friends or a standing coffee date with neighbors can cultivate feelings of camaraderie and friendship within senior social groups.
Take Up A Hobby
Almost any hobby can become a social activity. Painting classes, hosing a dinner party, visiting an antique expo – the possibilities are endless. When seniors are surrounded by others with similar interests, it becomes that much easier to develop strong senior citizen social groups.
How Can You Help?
Occasionally, circumstances arise which may hinder elderly socializing. Connecting with elderly parents or grandparents (and maintaining that connection) is vital, as some situations can be difficult to discuss. However, a simple conversation may go a long to remove barriers to socialization.
Confidence is Key
Immobility, hearing or vision problems, incontinence, etc. have the potential to cause anxiety about socializing. Help your loved one devise solutions in advance. This could be something as easy as a scheduling doctor's appointment or determining the best timing for social activities. Removing obstacles in advance can help your loved one feel more confident in social situations.
Transportation
The importance of social interaction for the elderly is too great to let logistics get in the way. If you're not able to transport the senior in to and from social engagements investigate other options. You may consider government-funded transportation assistance, hiring a responsible young adult to help out, or maybe a carpool rotation with another local caretaker.
Valuing the Social Needs of Elderly Loved Ones
Caring for an aging parent or grandparent is difficult. Meeting their day-to-day needs can feel so overwhelming that helping them create senior citizen social groups is the furthest thing from your mind. However, it's an investment well worth making. Place importance on meeting the social needs of elderly loved ones today, and you'll witness far-reaching rearwards that last for years to come.
Sources:
https://pubmed.ncbi.nlm.nih.gov/20407593/
https://link.springer.com/article/10.1207/s15327558ijbm0501_6
https://pubmed.ncbi.nlm.nih.gov/23232034/
https://jamanetwork.com/journals/jamapsychiatry/fullarticle/482179
https://journals.plos.org/plosmedicine/article?id=10.1371/journal.pmed.1000316