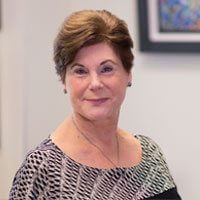 Bonnie Laiderman — CEO/Owner
As the founder, owner and CEO of Veterans Home Care®, Bonnie Laiderman has helped more than 15,000 veterans and their spouses receive in-home care through the unique VetAssist® Program.
Bonnie started the business in 2003 to answer a need in the military community. Many veterans and their families fail to access available benefits from the Department of Veterans Affairs (VA) due to a lack of awareness. As a caregiver for her late mother, Bonnie personally experienced the frustration of failing to access available VA benefits in her mother's time of need.
Bonnie has overseen the growth of the company from a one-woman operation to become one of the largest women-owned companies in the St. Louis Metro Region with multiple locations throughout the country, serving veterans in 44 states with a network of more than 2,800 home care providers.
Veterans Home Care has also earned the Better Business Bureau's Torch Award for Ethics and the Inc. 5000 Award of Fastest Growing Companies six times.
Bonnie personally has been recognized with numerous awards including the: Missouri Athletic Club's Women of Distinction, St. Louis Business Journal's Most Influential Women, and Missouri Council for In-Home Service's Leadership Award.
In addition to growing Veterans Home Care to become the largest provider of its kind in the industry, Bonnie has been a strong supporter of numerous charitable and social organizations with both a local and national impact. Wings of Hope and Lydia's House have both benefited from Bonnie's support to continue services to our most vulnerable in need. Bonnie also is active in the American Red Cross as: a Tiffany Circle member, (a national society of women leaders). a chairperson for the  Service Armed Forces Committee and a mentor in the Society of Women Leaders.