Growing demand for pre-programmed technology that aids the disabled sparks new agreement among home care and tech companies.
ST. LOUIS, MO, USA, December 8, 2022 /EINPresswire.com/ -- Veterans Home Care and its affiliate SmartCompanion Care announce a new licensing and service arrangement with Constant Companion, a provider of Alexa® powered voice-activated calling, virtual assistance, and medical alert system. In partnership with Best Buy and Geek Squad, SmartCompanion will provide all fulfillment, customer service and tech support for all users of the identical system marketed under the brands Constant Companion, VetAssist Companion and SmartCompanion.
Veterans Home Care is the largest provider of home care services, tailored to the needs of disabled veterans and surviving spouses nationwide, for its network of over 5,000 home care agency partners.
"Since we launched this technology to Veterans Home Care clients in 2020, with the help of Constant Companion as a supplier, there has been lots of excitement. We've brought the power of 24/7 virtual assistance to seniors who need it most, those between 70 and 100 years old. To meet the growing market demand, our new arrangement will leverage Veterans Home Care's 20 years of senior care experience, our national footprint for accelerated deployment, and SmartCompanion Care's tech and development infrastructure," says David Laiderman who is CEO of both Veterans Home Care and SmartCompanion Care.
With over 6,000 devices installed already, SmartCompanion is now the largest distributor of HIPAA provisioned voice technology nationwide. The technology was designed to simplify the 'internet of things' (IoT) for those who need it most – the oldest segment of the senior population. We do this by pre-programming and tailoring each system for each client and then including tech support.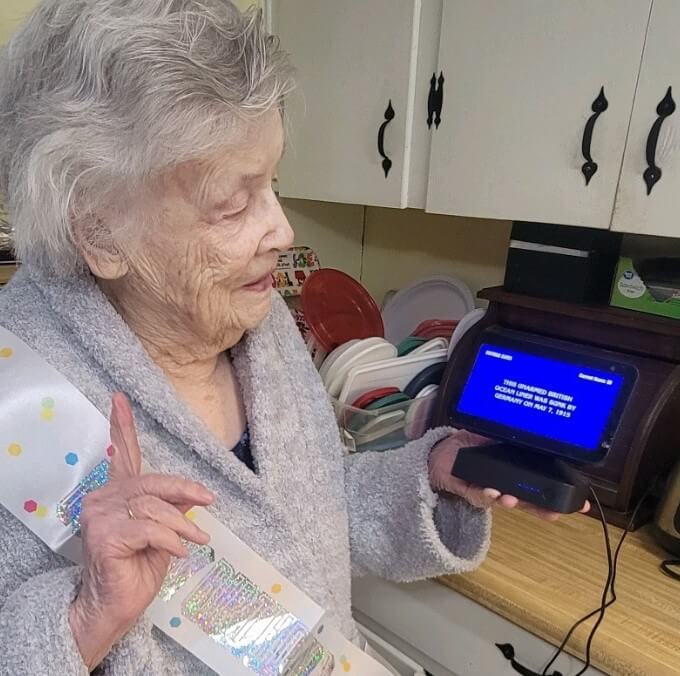 At 100 years old, Katherine Taylor of Arkansas embraces her VetAssist Companion system using it for voice-activated phone calls, virtual assistance of Alexa, playing music and for games like trivia. "She has an answer for just about anything I ask," says Taylor about Alexa.
"The engagement we are getting from our current clients has given us great insight on new proprietary software offerings, like VoiceHealth, now live on the Alexa skills platform. VoiceHealth is helping us unlock the power of AI in healthcare. It enables daily programmatic conversations with our clients resulting in actionable health data they can share with their families and physicians. Soon we will roll out more advanced reporting capabilities and additional integrations to help drive predictive analytics for better health outcomes," said Laiderman.
Constant Companion, based in Sarasota, FL introduced the proprietary technology just prior to the pandemic and gained sales from Medicaid and Medicare Advantage plans, senior living facilities and home care agencies. Veterans Home Care, a leader with 20-years-experience in home care for veteran families entered into a master distribution agreement with Constant Companion in 2020 and created SmartCompanion Care LLC for their senior technology service line.
We are pleased to re-align this important business relationship to fulfill mass orders and meet the demand for simple technology solutions for disabled people of all ages.
For more information, contact www.veteranshomecare.com or www.smartcompanion.care.