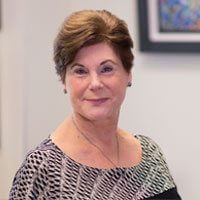 Bonnie Laiderman
Founder
As the founder and owner of Veterans Home Care®, Bonnie Laiderman has helped more than 20,000 veterans and their spouses receive in-home care through the unique VetAssist® Program.
Bonnie started the business in 2003 to answer a need in the military veteran community. Many veterans and their families don't utilize available benefits from the Department of Veterans Affairs (VA) due to a lack of awareness. As a caregiver for her late mother, Bonnie personally experienced the frustration of failing to access available VA benefits in her mother's time of need.
Bonnie has overseen the growth of the company from a one-woman operation to become one of the largest women-owned companies in the St. Louis Metro Region with multiple locations throughout the country, serving veterans in 48 states with a network of more than 4,000 home care providers.
Veterans Home Care has also earned the Better Business Bureau's Torch Award for Ethics and the Inc. 5000 Award of Fastest Growing Companies seven times.
Bonnie personally has been recognized with numerous awards including the:
In addition to growing Veterans Home Care to become the largest provider of its kind in the industry, Bonnie has been a strong supporter of numerous charitable and social organizations with both a local and national impact. Wings of Hope and Lydia's House have both benefited from Bonnie's support to continue services to our most vulnerable in need. Bonnie also is active in the American Red Cross as: a Tiffany Circle member, (a national society of women leaders), a chairperson for the Service Armed Forces Committee and a mentor in the Society of Women Leaders.

David Laiderman
Chief Executive Officer
David Laiderman succeeded Bonnie Laiderman as Chief Executive Officer in 2021 after serving as an executive consultant with VHC for the past several years.
David brings an entrepreneurial spirit and drive to Veterans Home Care. An experienced entrepreneur, he has over 18 years of experience operating technology-related companies. He has started and built for acquisition several food-related firms in the US and co-founded a software development business in Warsaw, Poland.
David's skills and knowledge are perfectly suited to take Veterans Home Care to the next level and to extend the company's reach to those without military service.
A native of St. Louis, David Laiderman's background includes experience in sales management and training, marketing and digital strategy, small-cap financing strategies and accounting, financial modeling and operational efficiency. He holds a BS degree in Management and International Business from Pennsylvania State University with a minor in Engineering from Imperial College in London.

Howard Laiderman
Strategic Development Officer
Howard began his career in his family's automotive tire and auto parts wholesale and retail business which at one time was ranked 8th largest US tire dealer by Crane Publishing. He developed his skills in operations and executed marketing programs that resulted in sales from Fortune 500 companies including Walmart.
After the passing of Howard's father, he ventured out on his own and started Ness Trading Company. With the help of his wife Bonnie and their two daughters, his new family operation quickly grew to one of the largest closeout and surplus specialists in the automotive parts and custom wheels industry.
Since 2003, Howard has worked with Bonnie growing Veterans Home Care to become the largest company of its kind offering in-home care to our deserving veterans through the unique VetAssist Program. Howard has been an integral part of the organization's effort to brand the VetAssist Program and scale the business through provider contracting and client relationship management (CRM) technology.
Today Veterans Home Care has multiple locations throughout the country, and serves veterans in 48 states with a network of more than 4,000 home care providers. Veterans Home Care has also earned the Better Business Bureau's Torch Award for Ethics and the Inc. 5000 Award of Fastest Growing Companies seven times.
Howard supports national veterans' organizations and travels to Capitol Hill advocating for veterans and educating policymakers about the needs of veterans.

Donna Appel
Vice President, Marketing
In her role as Vice President, Marketing, Donna oversees VHC's marketing outreach and branding. Donna has more than 35 years of experience in sales, sales training and marketing. Her wealth of business expertise includes a focus on the needs of older adults, caregivers and family members in need of home care solutions. She's a resource to veterans' organizations and senior care providers across the country and champions the mission to assist veterans, their spouses and their families with resources for them to age in place.
Those resources include the VetAssist® Program, which helps deserving veterans stay at home, if it is their choice, by obtaining home care with no out of pocket cost. As a daughter (and daughter-in-law) of a WWII veteran and a Veterans Home Care client, Donna is proud to serve these heroes and their families.
Donna is a member of the Veterans Council of Broward County and is currently on the Advisory Council for the Aging and Disability Resource Center of Broward County. Ms. Appel also mentors at risk teenagers through Take Stock in Children, an organization that funds college scholarships for at risk youth. Donna is part of a team for the Stepp'n Up Shoe Project that collects new shoes for Broward County children and distributes them to The Children's Home Society, Child Net, Kids in Distress, The Anne Stork Center and several other organizations.

Evan Kaltman
Chief Revenue Officer
Since opening the local Veterans Home Care NYJ office in 2009, Evan has overseen the expansion of the operations to include all of New Jersey as well as Pennsylvania, New York and Delaware. Evan is based at our Cedar Knolls, New Jersey office and leads sales operations nationwide.
Evan is a member of the New Jersey Association of Veterans Service Officers (NJAVSO). In addition, he serves as a board member for Welcome Home Vets of NJ.
Evan is a sought-after public speaker and strongly believes in educating social workers about the funding options available for our veterans and surviving spouses to receive in-home care. He is certified by the National Association of Social Workers – New Jersey Chapter (NASW-NJ) to provide training and issue "VA Benefits for Long Term Care" continuing education credits (CEU's).

Carmen Perry
Vice President, Strategic Partnerships
As Vice President of National Accounts, Carmen develops and supports a nationwide network of home care and other senior care providers for Veterans Home Care's brands. Carmen is responsible for these valued stakeholder relationships, identifying sales opportunities and developing comprehensive growth strategies for all parties involved.
Carmen's 20+ years of healthcare administration experience spans multiple levels of care from physician practices to renown hospitals and rehabilitation services.   Having an extensive consulting background and subject matter expertise in VA Aid and Attendance benefits for older adult care, she's a well-received speaker, podcast guest and presenter.
Carmen serves on the Home Care Association of America's (HCAOA) Veterans Affairs Committee and serves as a board member for the National Aging In Place Council, (NAIPC) with whom she co-wrote a book on senior care.

Robin Borders
Vice President, Sales
With more than a decade of senior care experience, Robin Borders is a respected leader in the home care industry.
Robin started at Veterans Home Care in 2012 in the Client Services Department, then joined the marketing team as a regional manager and was promoted to territory vice president. As a client service specialist, Robin monitored the home care of clients assuring they were getting the services they needed from a home care aide they trusted. Working as a regional manager, Robin made home visits to veterans and their families explaining the VetAssist Program.
Robin is instrumental in marketing our unique business model, educating the public on how we help people apply for a VA pension with Aid and Attendance and provide home care services. As a territory manager, Robin works with home care agencies and senior organizations across the country.
Prior to working at Veterans Home Care, Robin owned her own business as a manufacturer's representative of restaurant equipment managing four states. Robin, a daughter of a Marine Korean War veteran and granddaughter of a Navy WWII veteran, grew up in St. Louis, Missouri and graduated with an associate degree from Florissant Valley Community College. Robin volunteers for the Alzheimer's Association and is a member of the St. Louis Home Care Alliance.
Robin is a sought-after speaker and presenter based at our St. Louis, Missouri headquarters and oversees regional managers and company growth in 48 states