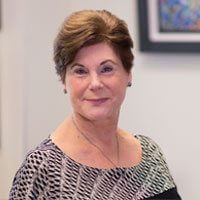 Bonnie Laiderman – Founder
As the founder and owner of Veterans Home Care®, Bonnie Laiderman has helped more than 20,000 veterans and their spouses receive in-home care through the unique VetAssist® Program.
Bonnie started the business in 2003 to answer a need in the military community. Many veterans and their families fail to access available benefits from the Department of Veterans Affairs (VA) due to a lack of awareness. As a caregiver for her late mother, Bonnie personally experienced the frustration of failing to access available VA benefits in her mother's time of need.
Bonnie has overseen the growth of the company from a one-woman operation to become one of the largest women-owned companies in the St. Louis Metro Region with multiple locations throughout the country, serving veterans in 48 states with a network of more than 4,000 home care providers.
Veterans Home Care has also earned the Better Business Bureau's Torch Award for Ethics and the Inc. 5000 Award of Fastest Growing Companies seven times.
Bonnie personally has been recognized with numerous awards including the: KTVI-Fox2 News Most Remarkable Women, McKnight's News Publications' Hall of Honor, Missouri Athletic Club's Women of Distinction, St. Louis Business Journal's Most Influential Women, Ingrams Magazine's 50 People You Should Know and Missouri Council for In-Home Service's Leadership Award.
In addition to growing Veterans Home Care to become the largest provider of its kind in the industry, Bonnie has been a strong supporter of numerous charitable and social organizations with both a local and national impact. Wings of Hope and Lydia's House have both benefited from Bonnie's support to continue services to our most vulnerable in need. Bonnie also is active in the American Red Cross as: a Tiffany Circle member, (a national society of women leaders), a chairperson for the Service Armed Forces Committee and a mentor in the Society of Women Leaders.

David Laiderman – Chief Executive Officer
David Laiderman succeeded Bonnie Laiderman as Chief Executive Officer in 2021 after serving as an executive consultant with VHC for the past several years.
David brings an entrepreneurial spirit and drive to Veterans Home Care. An experienced entrepreneur, he has over 18 years of experience operating technology-related companies. He has started and built for acquisition several food-related firms in the US and co-founded a software development business in Warsaw, Poland.
David's skills and knowledge are perfectly suited to take Veterans Home Care to the next level and to extend the company's reach to those without military service.
A native of St. Louis, David Laiderman's background includes experience in sales management and training, marketing and digital strategy, small-cap financing strategies and accounting, financial modeling and operational efficiency. He holds a BS degree in Management and International Business from Pennsylvania State University with a minor in Engineering from Imperial College in London.

Larry Kay
President & Retired U.S. Army Brigadier General
In 2018 company owners Bonnie and Howard Laiderman carefully chose Retired Brigadier General Larry Kay as president of Veterans Home Care to refine and execute business strategies while maintaining operational excellence as the business scales further in revenue and market density.
Larry is uniquely qualified to serve veterans and their surviving spouses having extensive healthcare leadership experience in both his military and civilian careers.
In his civilian career, he has more than 30 years experience in healthcare administration and veterans benefits focusing on strategic planning, operational leadership, team building and communications. He has specific backgrounds in emergency services, acute care, skilled nursing care and clinic leadership and operations.
In his military career, Larry served during Desert Storm as the executive officer for the 1267th Medical Company (Air Ambulance) 1990-1991. The mission of his air ambulance company was aerial evacuation of wounded, transportation of critical medical supplies and aerial search and rescue in the combat zone. He is a qualified pilot of both the Huey and Blackhawk helicopters and has served in command positions from platoon thru brigade and task force levels.
In 2008 his final military assignment was as commander, Multinational Task Force – East in Kosovo. As the senior U.S. Army commander in the Balkans, he was responsible for the deployment and performance of a brigade-size combat team to include active duty, National Guard and Reserve Airmen, Marines and soldiers from seven states and six partner nations in support of NATO peacekeeping operations. He retired from the Missouri National Guard in 2010 at the rank of brigadier general.
Larry is a Missouri native with a Bachelor of Arts Degree in Political Science from Westminster College, a Master's Degree in Health Services Management from the University of Missouri-Columbia, and a Master's of Strategic Studies from the U.S. Army War College.

Howard Laiderman – Strategic Development Officer
Howard began his career in his family's automotive tire and auto parts wholesale and retail business which at one time was ranked 8th largest US tire dealer by Crane Publishing. He developed his skills in operations and executed marketing programs that resulted in sales from Fortune 500 companies including Walmart.
After the passing of Howard's father, he ventured out on his own and started Ness Trading Company. With the help of his wife Bonnie and their two daughters, his new family operation quickly grew to one of the largest closeout and surplus specialists in the automotive parts and custom wheels industry.
Since 2003, Howard has worked with Bonnie growing Veterans Home Care to become the largest company of its kind offering in-home care to our deserving veterans through the unique VetAssist Program. Howard has been an integral part of the organization's effort to brand the VetAssist Program and scale the business through provider contracting and client relationship management (CRM) technology.
Today Veterans Home Care has multiple locations throughout the country, and serves veterans in 48 states with a network of more than 4,000 home care providers. Veterans Home Care has also earned the Better Business Bureau's Torch Award for Ethics and the Inc. 5000 Award of Fastest Growing Companies seven times.
Howard supports national veterans' organizations and travels to Capitol Hill advocating for veterans and educating policymakers about the needs of veterans.

Donna Appel
Vice President, Marketing
In her role as vice president, marketing, Donna reaches out to groups across the country serving veterans, their spouses and children. Donna educates our wartime veterans and families to the benefits of the VetAssist® Program and helps deserving veterans age in the place of their choice by obtaining home care at no cost for VHC services. As a daughter of a WWII veteran and a VHC client, Donna is proud to serve these heroes and their families.
Donna has more than 36 years of experience in sales training , as well as sales and marketing. She combines this wealth of business expertise with several years of experience focusing on the needs of older adults, caregivers and family members in need of home care assistance. Donna is a member of the Veterans Council of Broward County and is currently on the Aging and Disability Resource Center of Broward County's Senior Advisory Council.
Ms. Appel mentors at risk teenagers through a program called Take Stock in Children. TSIC is an organization that funds college scholarships to at risk youth. Donna is part of a team for the Steppin Up Shoe Project that collects and distributes new shoes for Broward County children. Shoes donated to The Children's Home Society, Child Net, Kids in Distress, The Anne Stork Center and several other organizations have benefited thousands of Broward County youth with a pair of new shoes.o

Evan Kaltman – Chief Revenue Officer
Since opening the local Veterans Home Care NYJ office in 2009, Evan has overseen the expansion of the operations to include all of New Jersey as well as Pennsylvania, New York and Delaware. Evan is based at our Cedar Knolls, New Jersey office and leads sales operations nationwide.
Evan is a member of the New Jersey Association of Veterans Service Officers (NJAVSO). In addition, he serves as a board member for Welcome Home Vets of NJ.
Evan is a sought-after public speaker and strongly believes in educating social workers about the funding options available for our veterans and surviving spouses to receive in-home care. He is certified by the National Association of Social Workers – New Jersey Chapter (NASW-NJ) to provide training and issue "VA Benefits for Long Term Care" continuing education credits (CEU's).

Carmen Perry
Vice President — National Accounts
Carmen has more than 20 years of hands-on experience in the senior care industry. Carmen began her career by working with physicians in private practice, which afforded her the opportunity to get to know patients on a personal level.
After leaving private practice, Carmen spent time working for both Kindred Healthcare and Windsor Healthcare. Both companies are nationally known for their multiple levels of care centers that include hospitals, sub-acute units, transitional care and skilled nursing facilities. Answering a call to work more closely with seniors, Carmen joined ResCare Home Care where her team helped seniors stay home. Carmen joined the Veterans Home Care team in 2012 developing strong ties within her community helping to provide additional services for our veterans and surviving spouses through the Aid and Attendance benefit. With her vast understanding of eldercare and the financial challenges of long-term care, Carmen quickly rose from the ranks of regional manager.
Carmen is based in California and focuses on national corporate home care agencies with multiple franchisees and branches and takes on company-wide growth initiatives.

Robin Borders
Vice President — Atlantic & Central Territory
Robin Borders started at Veterans Home Care in 2012 in the Client Services Department, then joined the marketing team as a regional manager and was promoted to territory manager. As a client service specialist, Robin monitored the home care of clients assuring they were getting the services they needed from a home care aide they trusted. Working as a regional manager and now as a territory manager, Robin makes home visits to veterans and their families explaining the VetAssist Program. Robin is instrumental in marketing our unique business model, educating the public on how we help people apply for a VA pension with Aid and Attendance and provide home care services. As a territory manager, Robin works with home care agencies, senior organizations and veteran families in Missouri, Illinois and across the country.
Prior to working at Veterans Home Care, Robin owned her own business as a manufacturer's representative of restaurant equipment managing four states. Robin, a daughter of a Marine Korean War veteran and granddaughter of a Navy WWII veteran, grew up in St. Louis, Missouri and graduated with an associate degree from Florissant Valley Community College. Robin volunteers for the Alzheimer's Association and is a member of the St. Louis Home Care Alliance.
Robin is based at our St. Louis, Missouri headquarters office and oversees managers and company growth in the Central Territory covering 13 states: Arkansas, Missouri, Illinois, Indiana, Tennessee, Minnesota, Wisconsin, Iowa, Ohio, Kentucky, Louisianna, Mississippi and Alabama.

Eric Leonard
Vice President – Pacific & West Territory
Eric joined Veterans Home Care in 2011 and immediately impacted the veteran community in North Texas with his enthusiasm and joy for helping elderly veterans and their surviving spouses receive the VA benefits for which they are entitled. Eric manages a team of regional managers and support staff throughout Texas, who work cooperatively to educate and assist veteran families to apply for the Aid & Attendance benefit that can be used for in home care through the VetAssist Program.
A loving husband and father, Eric gives back to the community as a mentor for Big Brothers Big Sisters Program of North Texas and also works with youth as a volunteer football coach. Eric is a graduate of Oral Roberts University earning his Bachelor's degree in Business Marketing.
Eric is based at our Arlington, Texas office and oversees company growth and managers throughout the Pacific and Western Territory including California, Nevada, Texas, Oklahoma, New Mexico, Colorado, Kansas, Nebraska, Wyoming, North Dakota, and South Dakota.